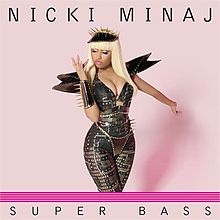 "Super Bass"
is a song by Trinidadian recording artist
Nicki Minaj
from the deluxe edition of her debut studio album, Pink Friday (2010). It was sent to radio as the album's fifth single in April 2011. The song was co-written by Minaj, along with Ester Dean and Kane Beatz, who also produced the song along with JMIKE. According to Minaj, the song's lyrics detail the story of a playful romance between a male and a female. The song draws from the electronic and pop genres while Minaj raps over a hip hop beat. "Super Bass" received general acclaim from music critics, who was complimented its memorable hook, lyrical context and for its chorus. The song peaked at number three on the US Billboard Hot 100, and reached number three in New Zealand, as well as number six in Australia and Canada. It also reached number eight on the UK Singles Chart. A music video for the single was shot in March 2011 by director Sanaa Hamri. The video shows Minaj playfully taunting a group of men, and makes use of multiple props, all of which are coloured bubblegum pink. The music video received generally positive reviews from critics, most of whom complimented the "eye candy" and colorful visuals seen throughout the video. "Super Bass" has been certified quadruple-platinum by the Recording Industry Association of America (RIAA), and has sold more than four million digital copies as of May 13, 2012, becoming one of the best-selling singles in the United States, also making Minaj to be the first female rapper to do so.
Cover versions
Edit
During an interview with Nashville's 107.5 The River, American singer-songwriter Taylor Swift requested the station to play "Super Bass" during an interview. Swift described her love for the song stating, "I've been listening to it on repeat and I really freak my friends out because I can recite every single lyric to the rap". The DJ later convinced Swift to rap a verse from Minaj's song on the air. In an interview with American radio station 102.7 KIIS FM, Minaj said, "Taylor Swift",  "did her little interview about Super Bass and it took off in the States with the people sort of knowing it...It's just really uncanny how all that stuff happens...We didn't plan it like that".On the same day as Swift's "Super Bass"-rap, Selena Gomez additionally took to her official YouTube account to rap to Minaj's song.In the video, Gomez raps an entire verse of the song, fast-forwarding through the profane language of the song, due to her younger audience. She later also covered the song during the Much Music festival in Toronto with a slight change of the lyrics. It was also covered by Karmin and it was released as a single on iTunes on June 6, 2011. Also girl group Little Mix (named Rhythmix at the time) covered it on The X Factor in the eighth series which was also featured on their debut single "Cannonball".
Ad blocker interference detected!
Wikia is a free-to-use site that makes money from advertising. We have a modified experience for viewers using ad blockers

Wikia is not accessible if you've made further modifications. Remove the custom ad blocker rule(s) and the page will load as expected.