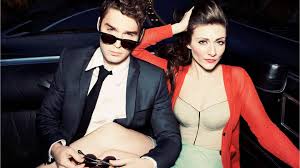 Sure, you know that Karmin is a musical group composed of Amy Heidemann and Nick Noonan. But do you know more? Here are things that you don't know about Karmin, except for Karminites.
10 facts about Karmin
Edit
In reality, the two are a couple. They formed the band we now know as Karmin while they were studying at Berklee College of Music in Boston, Massachusetts. They are now engaged.
Karmin is a word formed from the words "carmen", Latin word for "song" and "Karma."
Both Amy and Nick are left-handed. They birthdays are just to days apart; Nick's is April 27 while Amy's is April 29.
They were from small towns with populations under 10,000: Amy grew up in Seward, Nebraska, and Nick is from Old Town, Maine.
Their track "Take It Away" was used in the 2011 NBA Finals promos.
Their YouTube channel Karmincovers views are already hundreds of millions and they have 1,310,251 subscribers.

They're heating up this summer because they are releasing a new album, and the duo have announced a tour with the Jonas Brothers.

Amy wasn't allowed to buy CDs with parental advisory stickers. She still had to have a boyfriend steal her first rap CD.

Their musical influences include Lauryn Hill, as she is a female artist who raps and sings.

What do the duo want from the future? Karmin want to spread a positive message and give others something to smile about. They also want everyone in the world to hear their music! Ambitious, energetic, charismatic and soulful: This duo is worth a listen.
So, now you know these simple things about Karmin that you once don't know. But now, you do. Thank you for viewing!
References
Edit